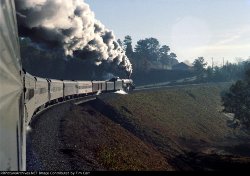 Welcome to the RRPictureArchives.NET contributor site of Tim Carr.



Welcome to Tim Carr's railroad pictures archive. I have been living in the Birmingham, Alabama area since in 1979. Starting as a young child I have always have had a fascination with trains. My interest in railroading increased when I first discovered the Norfolk and Southern Steam program in 1983 after my first steam excursion behind the J611. That's when found out about the steam engine repair shop at Norris Yard. Over the years during the winter months I was able to shoot some photos of the steam engines like the N&W J611, Southern 4501, and N&W 1218 as they were being worked on prior to the next excursion season.

After the NS ended the steam program my interest in railroading subsided. There was some visits to the Tennessee Valley Railroad, and to other non-main line operations. Unless you have deep pockets, steam is getting harder to find. My interest in trains has picked up since I switched from film to digital when I got my digital SLR camera several years back. Since my office is only 2 miles from Irondale, so during my lunch break I break out the camera and take pictures of the trains going in and out of Norris Yard.



You may browse my collection of pictures via the menu located on the left hand side of the page. I hope you enjoy the collection and thanks for stopping by!
Note: This site is best viewed in Internet Explorer 6.0 or above.
Select one of the links from the menu on the left to begin browsing the collection.